Inspired solutions to make your menu sizzle
Serving standout sandwiches and homestyle dishes doesn't have to be difficult. Use these on-trend menu concepts, prep videos and kitchen tips to inspire your staff, cut prep time and wow your patrons.
Menu Inspiration
Pork Grain Bowl
With Fully Cooked Seasoned Boneless Pork (#769139), wild rice, barley, herbs, roasted peppers, avocado, and fresh kale
Protein Bowl
Brown rice topped with shredded carrots, purple cabbage, diced avocado, sliced tomatoes, and piled high with sliced ham, sliced turkey, and sliced roast beef and garnished with feta cheese and a lemon vinaigrette.
Pot Roast Tacos
Corn tortillas stacked high with shredded beef pot roast, sliced avocado, sliced red onion, and topped with cotija cheese and fresh cilantro.
View Product
Turkey Red Pepper Hummus Wrap
Garden Herb Sun-dried Tomato Turkey on a creamy Red Pepper Hummus with Feta Cheese and Kalamata olives on a Basil Flatbread
Beef Short Rib Mac'n Cheese
Fully cooked beef short rib served over elbow or spiral noodles mixed with melted cheddar, jack and muenster cheese
View Product
Pork Grain Bowl
With seasoned boneless pork wild rice, barley, herbs, roasted peppers, avocado, and fresh kale
View Product
Chicken Cordon Blue Sandwich
Applewood Smoked Chicken topped with ham, melted Swiss whole grain honey mustard on griddled sourdough bread
View Product
French Onion Dip
Seasoned roast beef dipped in jus and topped with caramelized onions and melted Swiss cheese on a French roll
View Product
Turkey Stir Fry
Brown rice topped with sauteed veggies, a fried egg, and shredded cooked turkey pot roast
View Product
BBQ Beef Brisket Burger
A burger topped with shredded beef brisket, crispy jalapenos, pepper jack cheese, and coleslaw on a burger bun w/ chips or fries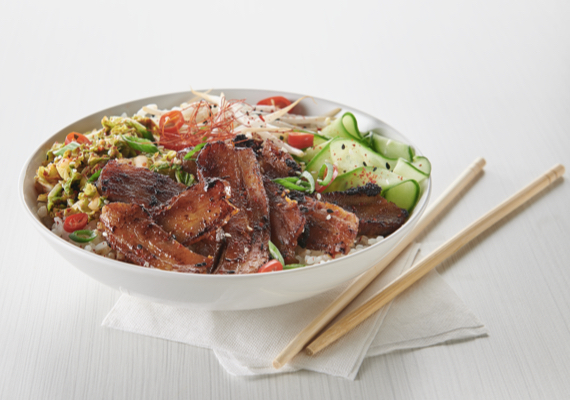 Bulgogi Bowl
Pork belly served with kimchi sauce, bean sprouts, green onion, served over white rice and topped w/ sesame seeds
View Product
Southern Style Turkey Biscuit
Homestyle Pan Roasted turkey, topped with country gravy, brown sugar bacon slices all on a buttermilk biscuit
View Product
Grilled Ham and Cheese
Ham off the bone with pimento cheese and White American cheese then melted between grilled sourdough bread
View Product